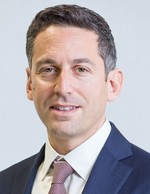 Jonathan Maxwell
Chairman & Co-CEO
Jonathan Maxwell has served as Chairman and Co-Chief Executive Officer of SDCL EDGE Acquisition Corporation since March 2021. Mr. Maxwell is currently the Chief Executive Officer of SDCL, which he founded. He has 25 years' experience in international finance, infrastructure and private equity and has overall responsibility for SDCL's investment activities. Mr. Maxwell is chair of the Investment Committee for SEEIT (SEIT.LN), the first listed investment company of its kind to invest exclusively in the energy efficiency sector. He is also serves as a director of Ireland Energy Efficiency Investments Plc. Mr. Maxwell has advised and invested on behalf of a number of national governments as well as a wide range of institutional investors. Prior to establishing SDCL, Mr. Maxwell was at HSBC Infrastructure and managed the IPO of the HSBC Infrastructure Company Limited, the first main market, London Stock Exchange listed infrastructure investment company, which now has an enterprise value of over £3 billion. Mr. Maxwell has a degree in Modern History from Oxford University.
Mr. Feldman has 20 years of investing experience in infrastructure. Most recently, Mr. Feldman was a Managing Director and head of infrastructure for Sixth Street Partners (from 2013 to 2020), where he focused on opportunistic infrastructure investments. Prior to joining Sixth Street Partners, Mr. Feldman worked at Goldman Sachs and ultimately held the title of Managing Director. At Goldman Sachs, he was responsible for alternative energy investing within the Americas Special Situations Group. In these roles, Mr. Feldman has served on the boards of directors of numerous portfolio companies. His focus is on alternative/renewable and conventional energy in the form of private equity, corporate lending, project finance, and structured investing. Mr. Feldman received a B.A. in Computer Science from Columbia University.
Mr. Davis has served as Chief Financial Officer and Chief Operating Officer of SDCL EE CO US LLC and Chief Financial Officer of New York Energy Efficiency Investments LLC since 2015. Mr. Davis has served as Managing Principal of Sustainable Development Capital LLC, a FINRA licensed Broker-Dealer, since 2014. Prior to 2014, Mr. Davis served as the co-founder, Chief Investment Officer and Managing Principal of North River Capital LLC, a New York-based equity investment fund manager, from 2005 to 2014, and Taconic Capital Group Inc. a FINRA licensed research and investment banking broker-dealer from 1999 to 2010. Prior to 1999 Mr. Davis was a sell-side equity securities analyst and M&A investment banker for several Wall Street firms, including most recently Lazard Freres & Co. and Oppenheimer & Co. Mr. Davis holds licenses with FINRA as a Managing Principal, Securities Analyst, FIN-OP and Investment Banker. Mr. Davis received his M.B.A. from the Harvard University Business School, with distinction, and his B.A. from Williams College, cum laude.